The Emu-sing Life Story of Eddy (As Told by Me!)
Hi, I'm Eddy! Welcome to my home, EmuCasino!
Since the beginning, EmuCasino has housed a huge collection of the world's best online games that has continued to grow over the years. Because I believe games are best enjoyed with friends, I've also done my best to make my home as awesome as possible for everyone. Reasons like these and more are why people love coming to EmuCasino to play with me!
Oh, you want to know more about me? Sure thing! Just let me get my photo album…
If you want to skip to a specific year, just let me know!
What happened recently at EmuCasino? Well…
Easter was later than usual so I took the opportunity to go the extra mile and make my Easter party this year extra special: Once my friends had found the first batch of eggs I'd hidden for my Easter egg hunt, I went and hid a whole new batch for them to find!
My Life: A History in Peck-tures
Curious about little old me? Have I got a tail for you!
2012
Since I hatched in July 2012, I've been insatiably curious and loved exploring every corner of my home which is EmuCasino. Because of this, I met my best friend Dingo and we both discovered our shared love for online games which we always play together!
2015
In 2015, I celebrated my 3rd birthday by giving EmuCasino a makeover, expanding my online game collection and setting up the EmuShop so that my friends could get rewarded for simply playing. Last but not least, we all got our first mobile phones so we could game on the go!
2017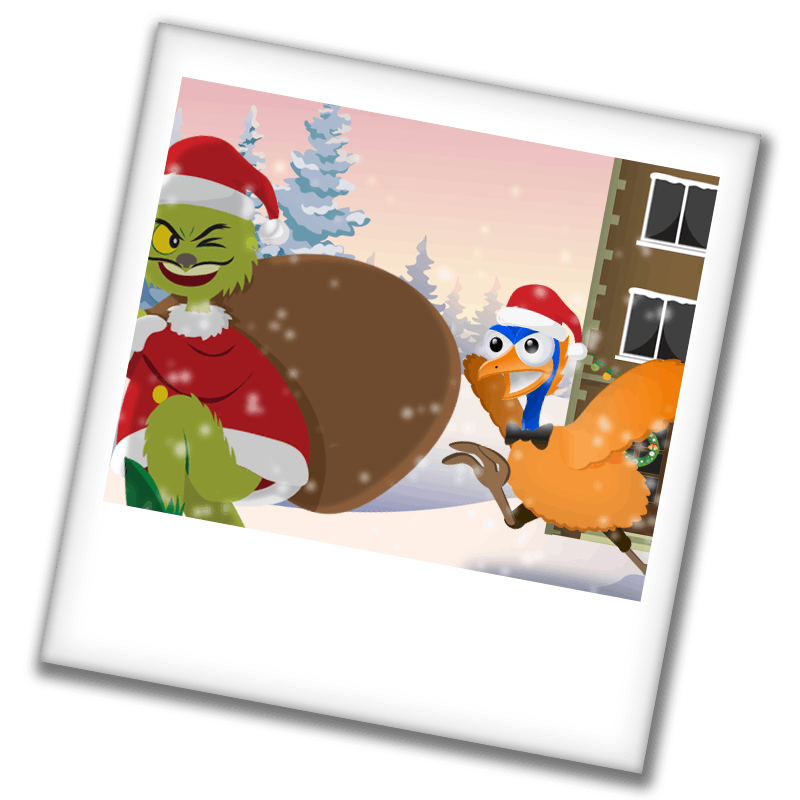 I was planning my Christmas party when I heard that the Grinch was in town to steal all the presents. With the help of my friends, we managed to stop his nefarious plan, send him packing and save Christmas! (Oh, and my party was a blast, of course!)
2018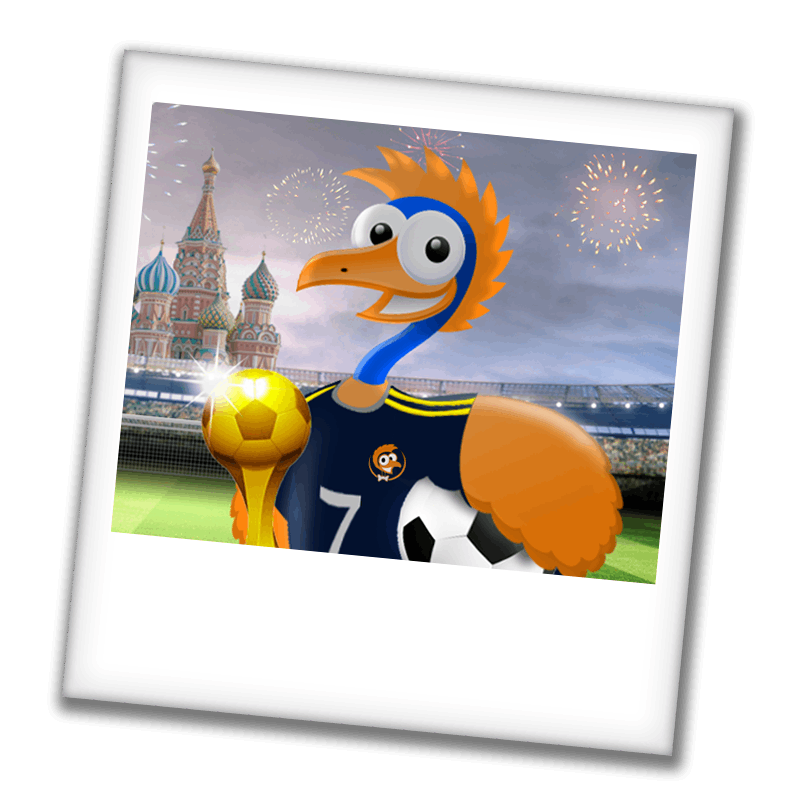 The World Cup got everyone's feathers all ruffled up and I was no different. In fact, I even ended up joining the national team at the last minute… AND WE WON! I was so eggs-tatic I got all my friends a ton of World Cup merchandise and some special gifts to top it all off!
I decided to spice up my usual Halloween costume party with a themed hide and seek game where I was Eddy Kreuger and everyone had to hide in EmuCasino and avoid becoming one of my 'victims'. We played until sunrise and the 'survivors' got some well-earned prizes from me!
Santa invited us to his gingerbread factory for Christmas that year and we had tons of fun learning how to make all sorts of things out of gingerbread from the elves. Once we were all done, we even helped wrap the presents and load up Santa's sleigh!
2019
My Valentine's Day party preparations were interrupted when a dragon kidnapped one of our friends Daisy! I went to save her in Dingo's place but it turned out that the dragon just needed a 'princess' to lock away so that he could impress his sweetheart. Talk about complicated courtships!
I got a visit out of the blue from the Easter Bunny who wanted to try all the amazing games I have that he'd heard so much about. He ended up enjoying himself so much he decided to treat my friends and I to our very own special Easter egg hunt!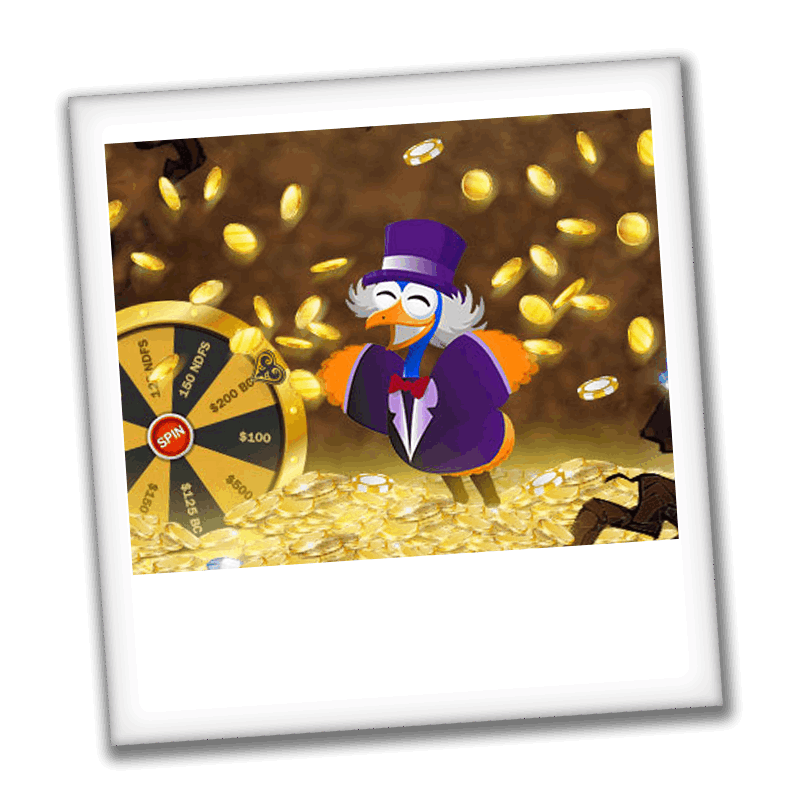 For my 7th birthday, I pulled out all the stops and made it my biggest birthday bash ever so far! One of my favourite books is Alice in Wonderland so I made it a costume party where everyone had to dress up as a character from the story.
The Circus of Terror… The constant rain… The creepy fog… The red balloon… Dingo saying that he saw me dressed as a really scary clown playing trick or treat with other people after we'd gotten separated at the carnival… That Halloween is a blur to me… and I think I prefer not to remember…
To get my mind off the craziness of Halloween, I decided to take part in the upcoming Wildlands Festival and went to learn how to be a DJ. I took to it like… well, an emu to running, I guess?… and on my big day, I naturally wowed the crowds and played some really electrifying sets!
While I was there, I met a lot of people who love playing games on their phones like me and were interested in seeing my collection. This gave me the idea to make EmuCasino even more accessible to on-the-go players in a really cool way – a mobile app!
Santa and Rudolph fell sick so we were called in to help save Christmas! Just for fun, I dressed up as one of my favourite Christmas movie characters and called myself Eddy Skellington while Dingo put on his Zero costume and took Rudolph's place as we delivered everyone's presents.
2020
A new year full of new experiences awaited us! Because I've always been interested in New Zealand, we hopped over there first. After that, I opened a world map, pecked a country at random and we wound up in… Canada!
Dingo told me that he was finally going to confess to Daisy on Valentine's Day but was scared of being rejected so I promised I'd play cupid and help him out. I did my job as the best wingman ever, of course, and now they're the happiest couple I know!
I got homesick for the Australian Outback during my travels so I started telling people about my adventures back home to make myself feel better. They loved my stories so much I decided to create EmuCasino's very first exclusive game Eddy Dundee starring none other than me!
I never miss out on a chance to party with my friends especially if I get to dress up for it and St Patrick's Day has always been a favourite celebration of mine because of that. This year, I prepared two door gifts which I named Shamrock and Pot of Gold for them to choose from and then use.
Something about Easter just gets me all fired up and I can't quite put my feather on it. Is it the eggs? I mean, I did hatch from one after all… Regardless, I celebrated it this year by inviting everyone to my home for an Easter weekend full of games. (And chocolate eggs, of course!)
I got so busy that it completely slipped my mind that my birthday was coming up so I completely forgot to plan anything. Luckily, my best friend Dingo didn't and planned a really awesome surprise birthday party for me with help from Daisy and all our other friends! I really am one lucky emu!
In case you don't already know, I have an EmuCasino YouTube channel and my latest special addition to its library is something I call my Top 5 series. Every month, I'll release videos about the top five newest, most popular and most rewarding games as well as my big winner friends.
Early this year, a group of slot lovers came to me with their idea for a video series about the slotverse… and I said, "SIGN ME UP!" To my delight, every episode keeps the reels spinning just like they promised and covers all kinds of relevant topics! Ladies and gentlemen, may I present to you… The Slot Show!
For this year's Halloween, I hosted my fang-tastic week-long party at a creepy castle located in the mountains of Romania. With me as the dreaded DracEddy and Dingo as Frankendingo, we invited our friends to trick or treat and sink their teeth into the traditional Transylvanian treats I made.
December means doing everything Christmas-y such as singing carols like The 12 Days of Christmas. When I started wondering why I had to celebrate Christmas for just 12 days, I decided to borrow Santa Claus' spare sleigh and visited my friends not just for 28 days of Christmas but New Year's Day too!
2021
I nearly forgot Valentine's Day was Dingo's and Daisy's first anniversary as a couple but when he came to me for help, I couldn't say no. I booked them a romantic stay at a lavender farm – Daisy's favourite flower – and arranged for them to get a tour too. Needless to say, they loved my gift!
Like always, my St Patrick's Day party had everything it needed from food to games but I'd also dressed up as a leprechaun earlier and run around town dropping gold coins from a pot I supposedly wanted to bury. Although my friends quickly figured out it was me, they still had fun looking for those coins!
"All good things come to an end." Well, not when slot games are involved! When one spin ends, another just begins. Because this made me dream about having infinite free spins and an eternity to play them, I created Spinfinity by Eddy so my friends can get seven sets of daily spins with just one deposit!
I was planning my birthday party and wishing I had even more friends than I already did when I spotted my old copy of Jules Verne's Around the World in 80 Days. Inspired, I took Dingo and my friends on a trip around the world via every method from trains to hot air balloons to meet new people!
The many amusement parks I saw during my trip around the world inspired me to create Eddy's Amusement Park with Dingo's help when I got home. Since it would open in October, its first zone was the Halloween-themed Spine-Chilling Terror-tory which had DracEddy's Haunted Castle and The Run for Your Life Maze.
In November, I opened up the next zone which got its inspiration from all the castles I'd seen and the stories I'd heard about them. I called it Escape to Camelot since I still dream of finding the real Camelot someday (who doesn't?). Its two attractions were The Knight Fight Ring and Dingo Hood's Archery Contest.
Being Christmas season, December is naturally when I opened up a festive third and final zone which I called Xmas Xcitement Xpanse. There, The Spooky Santa's Sleigh Ride and Santa's Gingerbread Factory provided tons of festive fun.
2022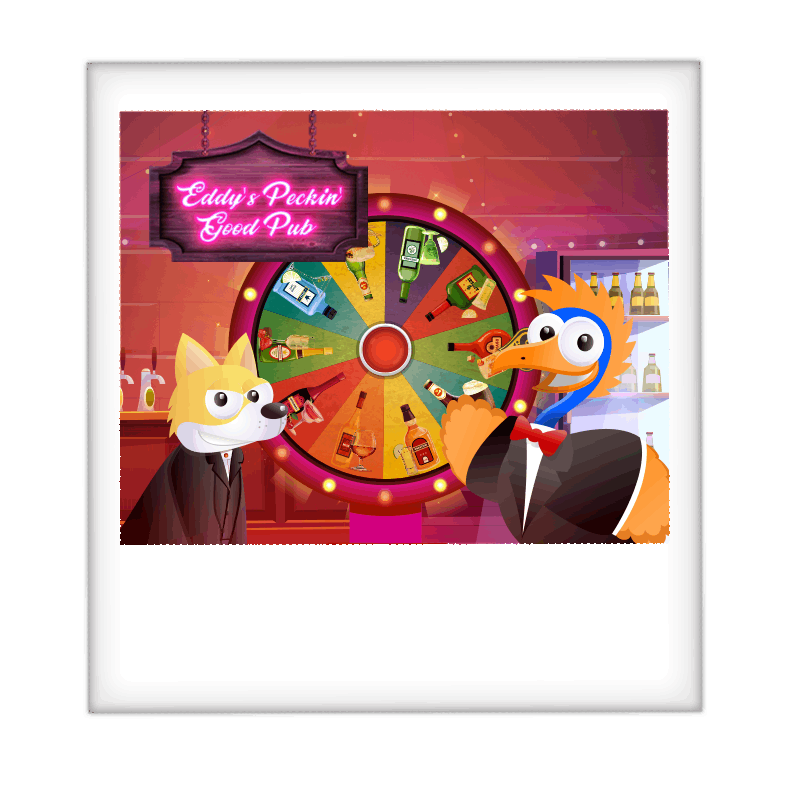 To make up for having forgotten all about Oktoberfest because of my amusement park, I set up Eddy's Peckin' Good Pub with Dingo's help. Aside from delicious meals, we had a wheel at the bar our friends had to spin to see what drink they got instead of just ordering the one they wanted.
Dingo, Daisy and I formed a small band so we could provide some live music at the pub but we did something different for Valentine's Day: Dingo and Daisy sang romantic duets while I recorded the whole thing on my phone.
For St Patrick's Day, I decorated my pub from top to bottom to match the occasion with Dingo's help. On top of that, I prepared little door gifts for my friends with four-leaf clovers in them as my way of saying Irish them the best of luck when they play my games.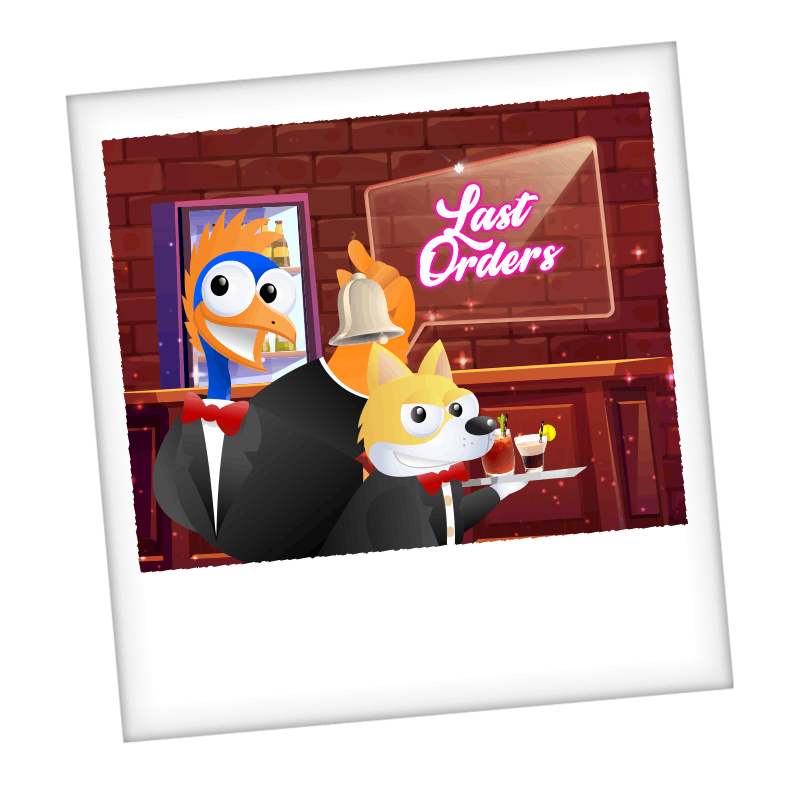 It was time to close Eddy's Peckin' Good Pub. I felt like I had to do it justice before I finally said goodbye to it so I held the Last Orders Tournament where my friends had to race each other to see who could down the most drinks before I rang the last call bell.