Draw High Low Table Game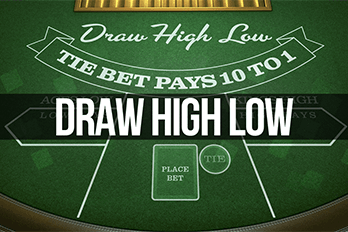 Play Draw High Low online now!
Any player in love with games that require a bit of both speculation and basic tactics is going to love Draw High Low. This table game follows just basic rules easily understood by beginners and has been one of the beloved games at EmuCasino due to that very reason.
This is a simple game, in which your goal is only to predict whether the next card will be higher, lower or have the same value as the card shown. The classic table game environment will give you the feeling of a real land casino experience.
First players need to select a chip size that starts from $1.00 to $100.00 and place a bet on the table. After clicking deal, a card is shown and then the player has to guess whether the next card might be higher, lower or equal to the card value. To bet on a tie, the player has to place another chip on Tie and also guess higher or lower.
The card ranking starts from an Ace and goes higher up to King. The payouts are shown in a clear way to avoid any confusion. For every card, the payouts are shown separately on the left and right side of the card and all ties pay 10:1. This is a cash accumulator game so you can now let your winnings ride on the next guess, or cash out after any win. There is no limit other than the fickle hand of fate so ride that streak until your gut tells you to cash out.
This is a great dynamic yet simple game. It's played with one deck of 52 cards and allows you to have fun in a very simple way but still involves basic tactical skills which will keep you interested for quite a while.