Back
Lucky Kiwi Floating on Cloud Nine After Gilded Big Win Streak
One lucky Kiwi spun pure platinum out of the reels on a multi-day big win streak of over $30,000!
For 44-year-old Tania from New Zealand, there was no better way to spend Halloween weekend than by settling down with her favourite games on EmuCasino. Her first destination was the Pure Platinum slot game where she could watch precious metals be transformed into lustrous items. She melted down a $4.80 bet, poured it into the mould and was delighted to receive a glimmering big win ring worth $1,618.80!
More Big Wins Float Her Way
Encouraged by her success, she packed her bags and flew East to the Floating Dragon: Hold and Spin slot game. She was immediately delighted by the bright colours of the ongoing kite festival and was keen to get involved. She played a $4 bet round on one of the festival games and was lucky enough to walk away with a $1,056 big win teddy bear.
She then bought two $8 bet kites to fly alongside the other intricate kites high in the sky. To her surprise, when she reeled the kites back in, she was greeted with a pair of big win envelopes tied to the string containing $1,156 and $2,444 respectively!
Brimming with confidence and excitement, Tania bought three more intricate bet kites of $10, $20 and $30 each before flying them high above the clouds to the cheers of enamoured festival-goers. A gust of wind blew all three kites away but to her surprise, a magnificent dragon swooped down to return them. The dragon had been so amazed by the dancing kites that it rewarded her with three big win diamonds worth $1,000, $4,960 and $5,850 each.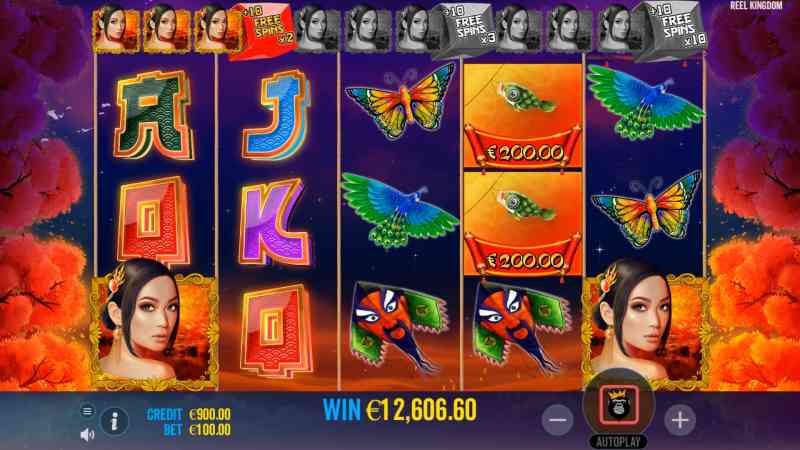 Precious Metals and Precious Prizes
She then decided to take a break from kites to visit the Hyper Gold slot game. With her $20 bet poker chip, she managed to hypercharge the reels and retrieve $2,150 in glimmering gold big win bars!
Tania had her eyes set on an even more precious metal as she returned to the Pure Platinum slot game. She poured $40 of liquid bet platinum into the many intricate moulds and, after some fine craftsmanship, managed to piece together a big win platinum watch worth $6,465!
As her busy day out in the slot world slowly came to an end, she floated back to the picturesque world of the Floating Dragon: Hold and Spin slot game to enjoy the sunset. She took a $7 bet ride on one of the traditional boats and as it sailed down the river, a glimmer in the water caught her eye. She reached out, pulled it out of the water and was amazed to find a $1,036 big win jade! The kite festival really did bring good fortune to all the participants!
Tania's Glorious Return with Heroic Winnings
But Tania wasn't quite finished just yet and returned on Halloween night itself to celebrate the spooky season with some spins on her favourite games. She stopped by the Pure Platinum slot game workshop, gathered $6 in bet platinum pieces, melted them down and crafted them into a shining big win platinum record worth $1,032.75.
Fuelled by the adrenaline from her big wins, she decided to join the epic battle between the Greek gods in the Zeus vs Hades: Gods of War slot game. Armed with only a $3 bet shortsword, she descended into the depths of the Greek underworld, battling her way through the scorching heat and past vicious creatures. Hades was so impressed by her prowess that he offered her a $4,862.40 golden big win chalice to bring back home. It was definitely a hellishly good way to celebrate Halloween!
A Big Winner's Perspective
By the end of her slot escapades, she had collected a grand total of $33,630.95 in big wins! As we were sure that she was riding high on her big wins, we reached out to Tania to learn more about her big wins and this is what she had to say about her experience:
Q: You had a series of some pretty nice wins the past few days. Did you feel particularly lucky?
"I didn't feel any more lucky than I usually do. Even my regular luck pays pretty good at times."
Q: You played a good variety of games and won big on some of them. Any particular favourites at EmuCasino?
"Pure Platinum, Floating Dragon: Hold and Spin, Harlequin Carnival and Big Bass Splash are my favorites."
Q: How has your playing experience been at EmuCasino?
"EmuCasino has been a good casino to play on with decent wins, easy withdrawals and great bonuses. Thank you Eddy the Emu for being hassle-free!"
Now that's definitely high praise for our resident Emu. We're certain that after such a rewarding string of big wins, Tania must be floating blissfully on cloud nine! We wish her even more good fortune in the future and hope that other players may experience similar good luck too.
/Josh Brown
News editor